I am no longer able to provide Repair Services


I've begun a list of alternate Kenwood service providers in the list below
Please Note: I have a "Blog" page which will enable you to get more detailed and timely information. . I will keep it simple, with just the needed information presented in a concise format.
My K4EAA Blog is located here: Ken's K4EAA Blog. Please Read the latest info!
My Kenwood Hybrid Service Bench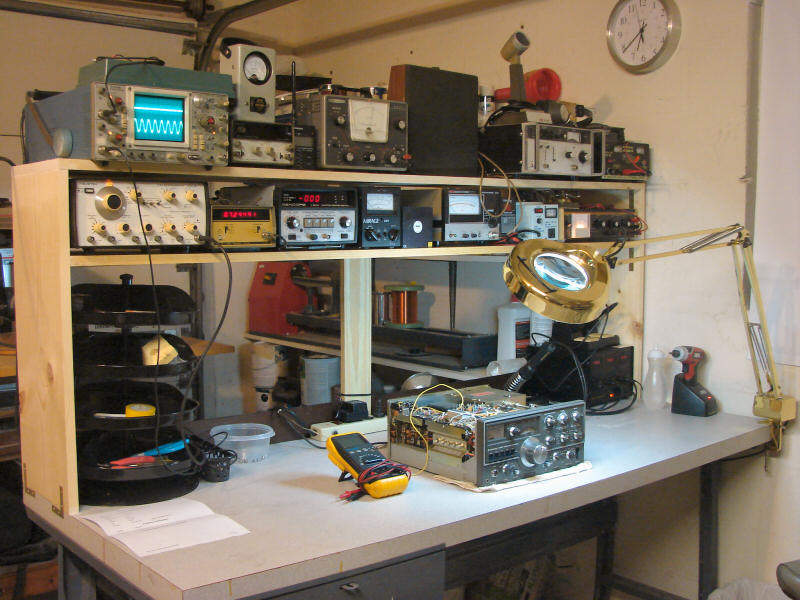 Top Shelf (From Left)
Tektronix 475 250MHz oscilloscope, HP 5302 Universal Counter, (On Top, Bird Model 43 Watt Meter with Peak reading Module), BK Precision 104 3GHz Frequency Counter, Heath Model IG-72 Audio Generator, Bench Speaker, Wavetek Model 3002 Signal Generator, Pyramid PS-35 12V 35A Regulated Power Supply.
Above the 3002 - Swan Mic (Shure 444) and Yaesu YH-55 Communication Headphones for testing.

Lower Shelf (From Left)
Wavetek 148A DC-20MHz Function Generator, HP 5381A 80MHz Counter, Sencore LC-53 LCR Meter, Mirage MP-1 Power/SWR Meter, Bird 150-ST-FN 50 Ohm Dummy Load, Ballantine 3440A RF Millivoltmeter, Dick Smith MK-II ESR Meter, Variac 500VA, BK Precision 1650 Tri-Output Power Supply.

Bench
Hakko 703B Triple Soldering Station with Vacuum Pump and Desoldering Tool.


Here is a list of Hams that work on Kenwood hybrids and have known good ratings by other Hams
| | | | | | |
| --- | --- | --- | --- | --- | --- |
| Name | Call | Web Page | Email | Location | Specialty |
| Terry Wagoner | K9TW | | wagstw46@aol.com | Michigan | all hybrid |
| Jimmy Lamanteer | WB2KNR | | nlamanteer@comcast.net | New Jersey | ts-520 |
| | | | | | |
Please submit your name for inclusion on this list if we have communicated before

For your reference:
Here's the Checklist I used during the restoration of a TS-830S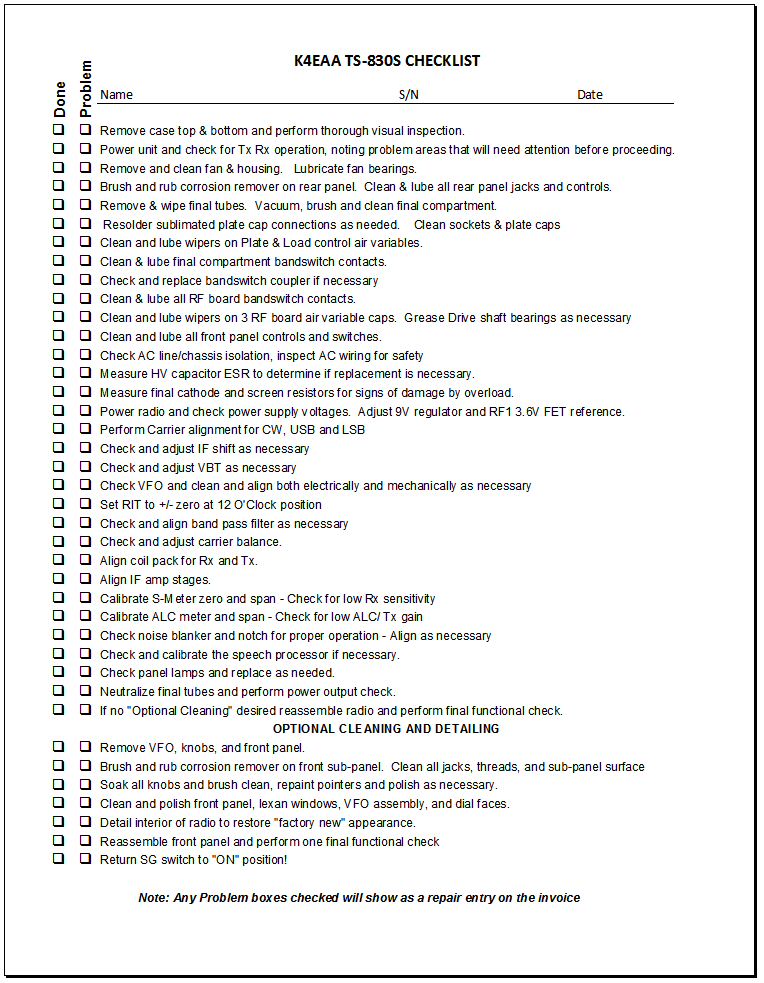 Some Additional K4EAA Site Links
If you have any questions, want full contact information, would like to inquire about a specific problem, or just have comments about this page, please write to the email address shown below and I will respond promptly! I look forward to doing business with you and preserving your vintage Kenwood prize! Best Regards, Ken K4EAA.

Please Note: The above address is a GIF image, to foil spammer robots.
You will have to type that address into your email client. Thanks for your understanding, Ken
.
All Photos and content copyright 2005-2018 K4EAA, Ken Kemski.