About Kenwood Hybrids

Throughout the 70's and 80's Kenwood built a line of transceivers that has become legendary for their great quality. Their trademark was the use of a State-of-the-Art solid state receiver and CW/SSB generator, coupled with the use of tubes for the driver and final stages. This combination has yielded rigs that have lasted 35 years, and still rival modern digital equipment in performance and audio quality. Some feel the Kenwood Hybrids are the finest sounding rigs on the air to this very day.

The tube finals are very forgiving, the pi-network output stage will match antennas and provide full power where the solid state rigs would fold back to a few watts for self-preservation! If you haven't done it before, you have to learn how to "load and dip the finals," but someone taught me that in two minutes when I was 13 years old, so it can't be too hard! You can learn how to dip your transmitter HERE. The 6146B finals and 12BY7A driver tube will easily last a decade or two, and are commonly available on eBay and elsewhere, very inexpensively.

The radios are built solidly, with cast metal front panels and heavy steel chassis. The knobs are large enough for an adult to grasp, and they have a wonderful "feel" that modern radios lack. The VFO tuning dial is smooth as silk, with expensive "split gears" that are spring loaded for no backlash, and even the analog dials can be returned to a frequency within a few hundred Hz or less with no problem. The 520 series is especially cool, with 3 dials all spinning at 3 different speeds. Spin the large tuning knob, and the dial behind it spins slower, and the sub dial behind it spins slower yet - All with the feel of quality. Cool!

These hybrids all have a built-in power supply as well. No additional bench space or $$ for a separate power supply. The supply in the Kenwood Hybrids is rugged, and I've never seen a dead supply in all the rigs I've acquired. They rigs are essentially "fail-safe," and are almost always easily and inexpensively repaired.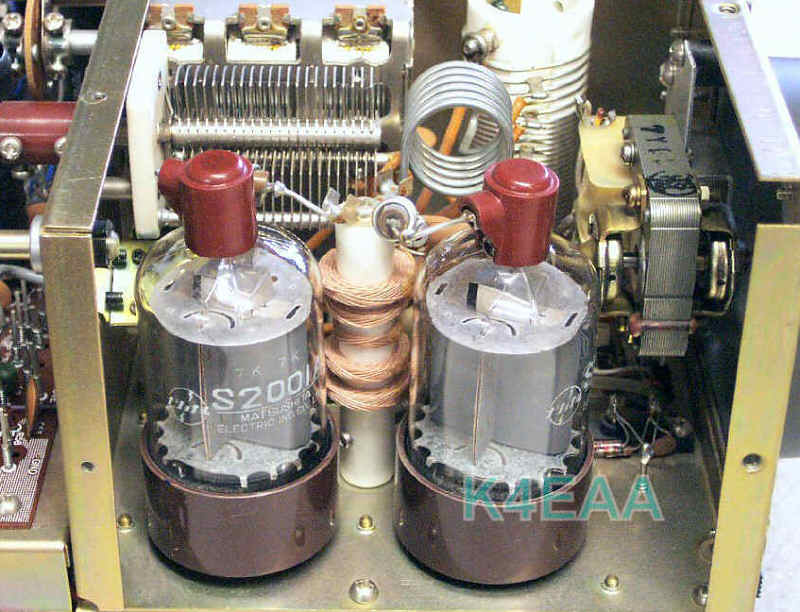 Pictured above is the "Business End" of a Kenwood Hybrid (TS-520S), the tube final section with the High Voltage cover removed. Kenwood uses the S2001 (6146B) to deliver over 100W to the antenna very efficiently. Since I have to remove, clean, and lubricate the fan assembly in each rig anyway, I thoroughly clean the final compartment while I'm back there. Some of these may be 35 years old, but they don't have to look or act like it!
Some Additional K4EAA Site Links


Please Note: The above address is a GIF image, to foil spammer robots.
You will have to type that address into your email client. Thanks for your understanding, Ken
.
All Photos and content copyright 2005-2010, K4EAA, Ken Kemski.